1-109-0754 Programming Board for Electricity Experiment FWB2-S
1-109-0754 Programming Board for Electricity Experiment FWB2-S (Full Set)
micro:bit electricity use experiment
A capacitor-mounted programming laboratory board that can control the electricity stored in a capacitor by programming when Micro:bit is connected.
Block programming support
Simple programming block allows students to learn about how much electricity is stored and how energy is used efficiently.
Brightness, human feeling, and temperature sensor
In addition to the brightness and temperature sensors installed on the micro:bit, a human sensor is installed on the board.
Restriction cover for human sensor
The human sensor is provided with a control cover to limit the sensing environment.
Prevents the human sensor from reacting excessively during group activities.
Output confirmation indicator
This can be confirmed by turning on the LED lamp when the automatic switch is turned ON by the programming control.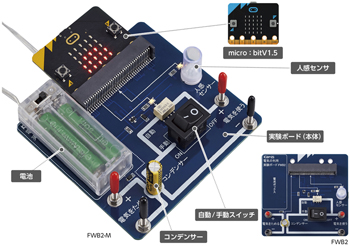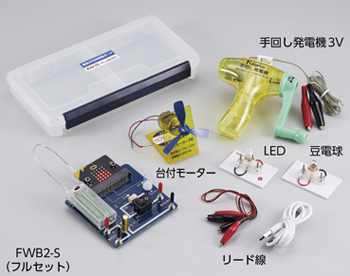 Descriptions
Sensor : Experiment board (Human sensor) / micro:bit V1.5 (Direction / Bright / Speed & Gyro / Temperature)
Functions : Switch (Auto / Manual) / Output Indicator
Software MakeCode (Web ver.) : Windows 7 or later Chrome OS, etc (Internet connection is required, Edge, Google and Chrome are available)
Software MakeCode (Application ver.) : Windows 10
Software Micro:bit (Application ver.) : iOS 9.0 or later / Android 4.4 or later
Size : 100x95x30mm
Set : Miniature light bulb / LED / Moter with base / Hand generator 3V / Lead wire / Storage case