1-123-0560 Experimental Apparatus for Electrolysis FY
1-123-0560 Experimental Apparatus for Electrolysis FY
One unit can perform electrolysis experiments and fuel cell power generation experiments.
Electrolysis of water and saline solutions can be carried out safely and easily by anyone by simply placing the electrolytic solution in a container.
Fuel cell experiments are conducted by electrolyzing water and using hydrogen and oxygen accumulated in the upper part of the electrode.
Platinum-plated titanium bars were used as electrodes. It can be used widely from sulfuric acid and aqueous sodium hydroxide solution to electrolysis of hydrochloric acid and other salts.
When multiple units are connected together, the output becomes large, and the sound of the electronic organol becomes loud or the LED lights up brightly.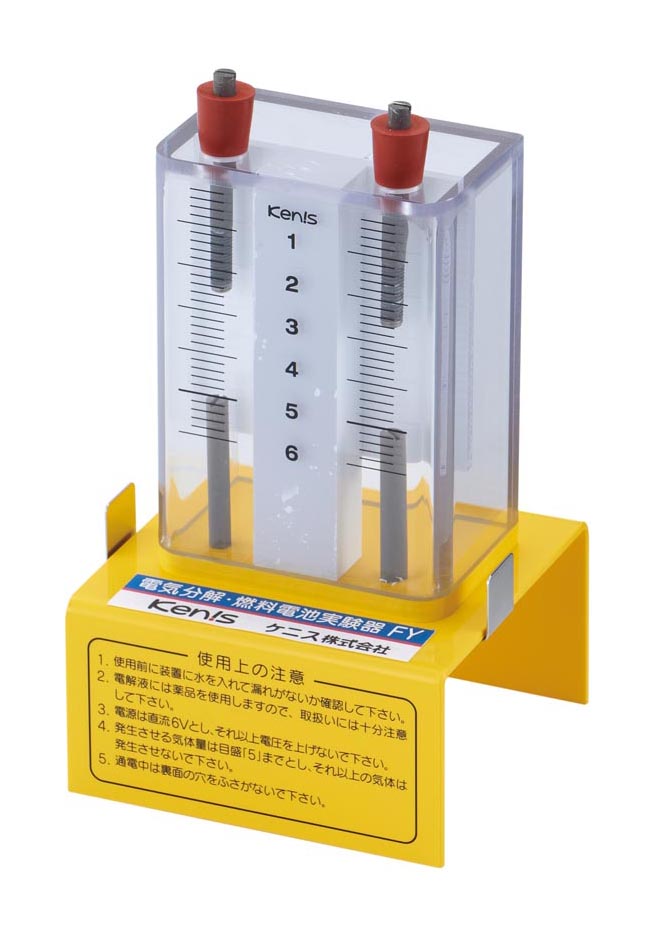 | | |
| --- | --- |
| Electrode | Titanium with platinized platinum (5φx55mm) |
| Electrolytic Tank | 70x45x100mm with scale |
| Tank | Transparent vinyl chloride |
| Size | 90x85x145mm |
| Accessories | Bagworm moth -Bagworm moth clip x 1pce / Electronic music box / Funnel |