Disposable Polyethylene Gloves / Sakuramen
Disposable Polyethylene Gloves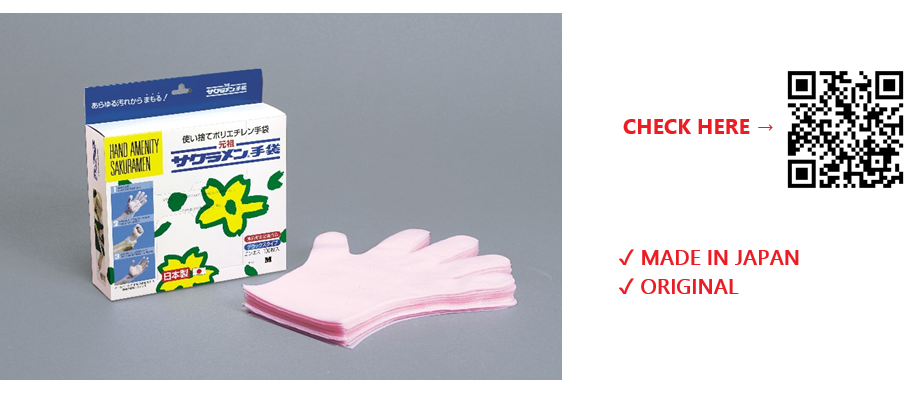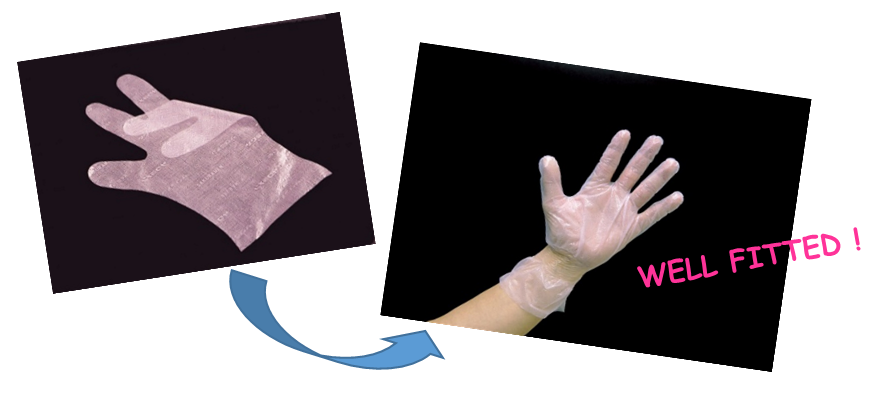 <FEATURE>
Just Fit Function
* Just fitted to your hands by pulling around your wrist before using
* Because you can work with a feeling of bare hands, you can improve your work efficiency
* For all hand size
Manufacturing only at our own plants
* Thorough sanitation manangement and strict inspection
Take-out port from two directions up and down
* The glove can be removed from the wrist (downward), so that the glove is not soiled and can be used safely and with peace of mind.
<SIZE>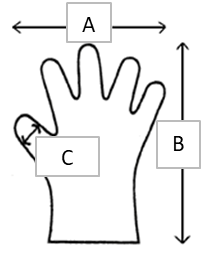 (cm)
| | | | | | | |
| --- | --- | --- | --- | --- | --- | --- |
| | S | M | L | LONG, M | LONG, L | w/Lubber |
| A | 22 | 24 | 26 | 24 | 26 | 24 |
| B | 29 | 29 | 29 | 38 | 38 | 60 |
| C | 3.5 | 4 | 4.4 | – | – | – |
<MATERIALS>
Polyethylene
* Dioxin does not occur even if burned
* Environmental Hormone Problems Clear
* We use materials that do not contain lead or tin
<FIND BEST MODEL>
| | |
| --- | --- |
| MODEL | BEST FOR.. |
| embossed | Our unique texturing process makes it difficult for viscous substances to adhere, and it also has a high anti-slip effect. The color is white, pink with a gentle impression, and blue, which makes it easy to distinguish contaminants. There are also long-type and back embossed types that reduce hand stickiness. |
| standard poliythylene | It is strong enough to withstand prolonged work in which force is applied to the fingertip. |
| strong A | With reasonable pricing, it is perfect for customers who use a lot anyway. |
| super strong | This is an ultra-powerful product that has increased its strength from three to four times that of conventional products to customers who cannot be assured of their strength. |
| long glove with lubber | Protect the cuff and shoulder mouth for a long enough size to 60 cm shoulder. |
<Q&A>
Q: Where is it made?
A: All materials are made in Japan, and no subcontracting is used.
We manufacture in our own clean room.
Q: What is the material?
A: It is made of polyethylene that is recognized as safe under the Japan Food Sanitation Law.
Recycled materials are not used. It can be treated as burning waste.
Q: How about hygiene?
A: During both manufacturing and packaging.
It is shipped after strict inspection, so you can use it with peace of mind.
In addition, the package is equipped with a "top and bottom take-out opening"
that allows you to pull out the glove from the wrist, so you can use it without soiling the glove.
Q: What do you think of a global-friendly glove?
A: Because of the polyethylene gloves, no toxic chlorine gas or dioxin is generated even when burned.
<Particularly recommended for the people who…>
* feel pain in wrist caused by the anti-slippage ring rubber bites
* be likely to release their gloves and have pulled them up many times during work
* don't have the size to fit themselves and difficulty of working with gloves
* have the idea that polyethylene gloves can break quickly
* be worried about contamination of foodstuffs
* want to color-code by use


* with anxiety about hygiene
* want to make the glove easier to handle after use
* stress about crafed hand caused by rubber
<How to wear>

(1) Wear the glove to the base of the finger so that it fits firmly. Then, making a fist.

(2) Pull the glove to conform to the shape of the hand. (outside, inside, right and left)
(3) Well fitted !